Georgetown University Welcomes Dr. Elham Atashi as the Justice and Peace Studies Program Director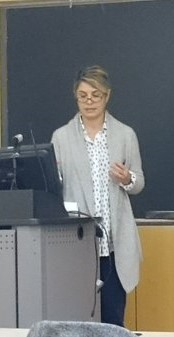 What is your vision for the Program? 
I am honored to serve as Director of such a prominent Program, though I am not necessarily a newcomer to Georgetown University, having served as faculty and co-leading the Justice and Peace Studies Program that has lovingly become known as JUPS for over a decade. I would like to see JUPS continue its top-ranked standing and serve as a model and a global leader in the field of Justice and Peace Studies education. I will carry on Mark Lance's legacy, as his vision and leadership led to the Program's founding and development as a global top-ranking program. The JUPS program is renowned for having a community of exceptional faculty mentors as well as students passionate about social justice and bringing people together to engage, explore, reflect, study, and research ways to build a just, equitable, and peaceful future for all. The JUPS Program has grown tremendously to become the largest and most dynamic interdisciplinary program in Georgetown College of Arts and Sciences (CAS). Although we are located within the CAS, we collaborate with all of the Schools on campus in offering a Major and Minor. We have seen a huge increase in interest in our classes, with our course offerings consistently filling above capacity. My goal is to continue expanding accessibility to our courses. The diverse course offerings and academic expertise of our faculty truly reflect the interdisciplinary reputation of the Program and its openness to all disciplines. I would really like to see all students at Georgetown taught basic everyday practices of social justice, peacebuilding, and dealing constructively with conflicts before graduating.
One of my priorities is to continue offering innovation in education, remaining relevant in the face of today's most challenging issues, and responding to the changing world we live in. Our approach is to untangle what is often considered unreachable, this murky word known as peace. We don't simply provide an education that explains how the world is, but consistently grapple with complex issues that require responses rather than reactions. We collaborate with our students to think about and generate scholarship about how we want things to be. We ask that they intentionally visualize the future and their role in building what they want to see in our communities and the world. What type of relationships do we want to have? What does the world we all want to live in and meet our deepest needs as human beings look like? One of our distinctive pedagogies provides students with workshop-style classes that bring prominent scholars in this field, to engage with such questions through applied scholarship and consider strategies that promote exploration of these and more questions. To remain relevant, we need to continue and deepen our partnerships with scholars, practitioners, and community partners. A few years ago, we started a one-credit course to meet this goal by offering students the opportunity to engage in applied scholarship. I am thrilled that it has become so popular that we are now offering 4 thematic one-credit courses each semester, offering students the opportunity to meet and generate discussions with actors in the practice of peace, conflict, and justice studies. I hope to continue offering innovative and timely classes that will allow our community to be at the forefront of grappling with issues and offering diverse perspectives on transforming complex crises.
We also intend to increase student research options and opportunities through mentoring and faculty collaboration support, allowing for variety in scholarship across disciplines and themes of study. To achieve this, we need to strengthen institutional infrastructure by creating new academic posts that will bring faculty and research fellows that can connect with our students. This past year, we celebrated JUPS's 30th anniversary with events that honored our community. It was clear that our alumni are doing outstanding work that embodies their JUPS education with professions in education and research, justice and law, advocacy and activism, civil service at all levels of government, community, and some of the world's leading non-governmental organizations, public and private sectors. The breadth of the professional paths demonstrates how far the field of peace and justice studies has progressed in preparing our students with a broad foundation of critical thinking, problem solving, teamwork, writing, and presentation skills. We seek to strengthen our links with alumni while also connecting them with our students.
We believe that community and collaboration have transformative power. It has helped us build and sustain relationships with several campus programs, centers, and departments. JUPS is also one of the first Programs to offer a global travel summer interdisciplinary Program in South Africa through collaboration between professors from several Programs and Departments. This program was two years in the making and preparation with our local partners in South Africa, and it was one of the first community-based learning (CBL) programs at Georgetown University CAS. There is something intentional about a cohort of students from across the campus immersing themselves in a single course to learn about conflicts and injustice and the practices and actions that people are taking to address and transform them. One of my priorities is to expand immersive pedagogies across the JUPS curriculum while remaining true to our tradition of innovation and excellence in our course offerings.