JUPS strives to uphold and further the mission of Georgetown University by fostering a "commitment to justice and the common good" and instilling an ethic that encourages people "to be responsible and active participants in civic life and to live generously in service to others."
2023
JUPS Community Senior Party (May 3, 2023)
JUPS seniors were invited to celebrate their accomplishments with JUPS faculty and peers on May 3 at the Car Barn outdoor patio.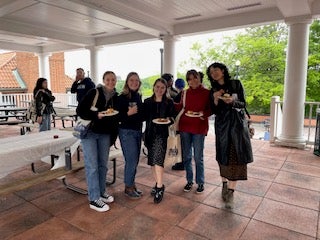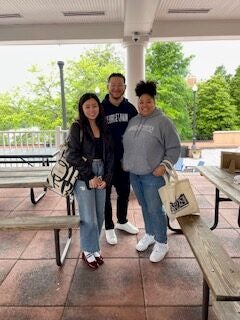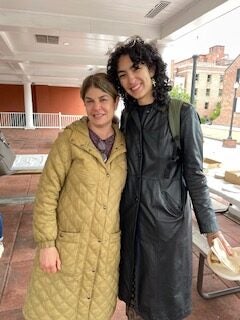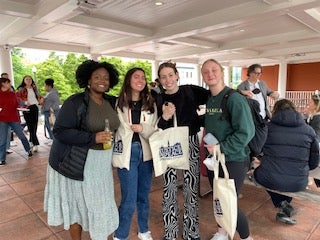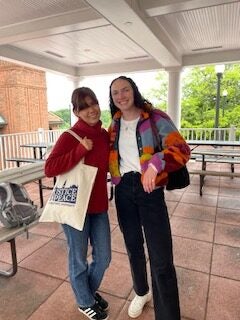 JUPS Study Break Social (April 26, 2023)
On April 26th, JUPS upperclassmen gathered together for a social as a way to take a break from their studies and relax. The casual conversations created a welcoming environment that strengthened community ties among the program's students.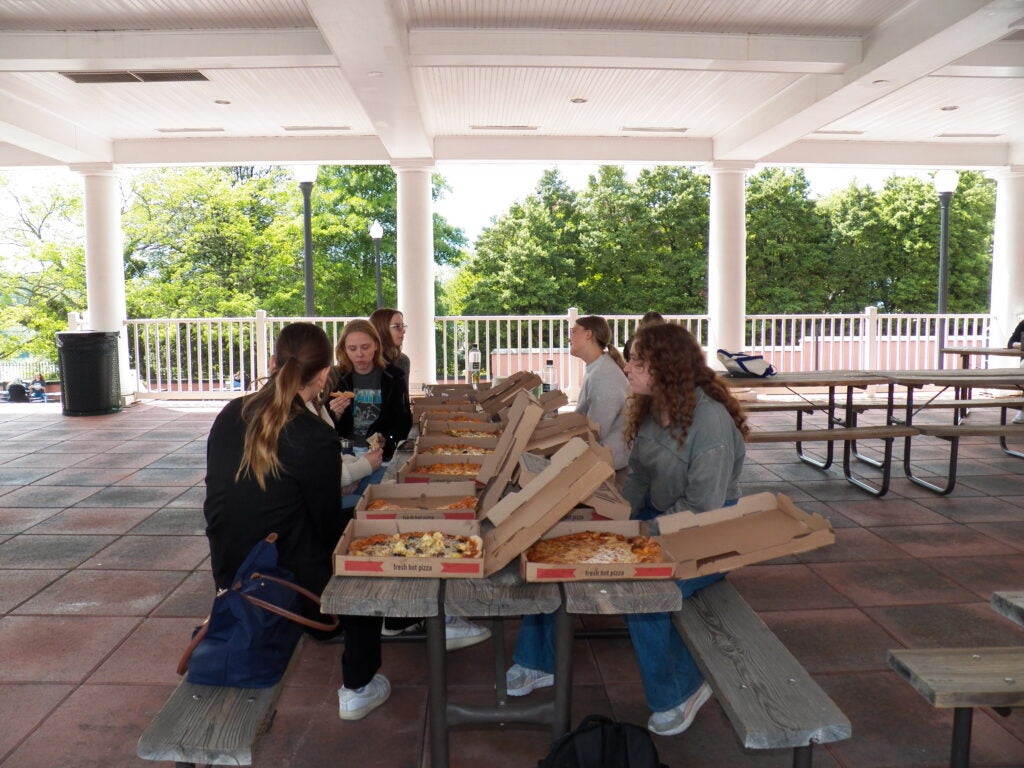 ---
Sexual Assault Awareness Month Events (April 2023)
The Justice & Peace Studies program partnered with Georgetown's Sexual Assault Peer Educators (SAPE) for Sexual Assault Awareness Month. We co-sponsored two events: Restorative Justice for Sexual Harm: Why I Fought for a Circle, Not a Courtroom and The Sex Ed We Need: Consent, Inclusion & Pleasure with Marlee Liss. SAPE received overwhelming positive feedback from each.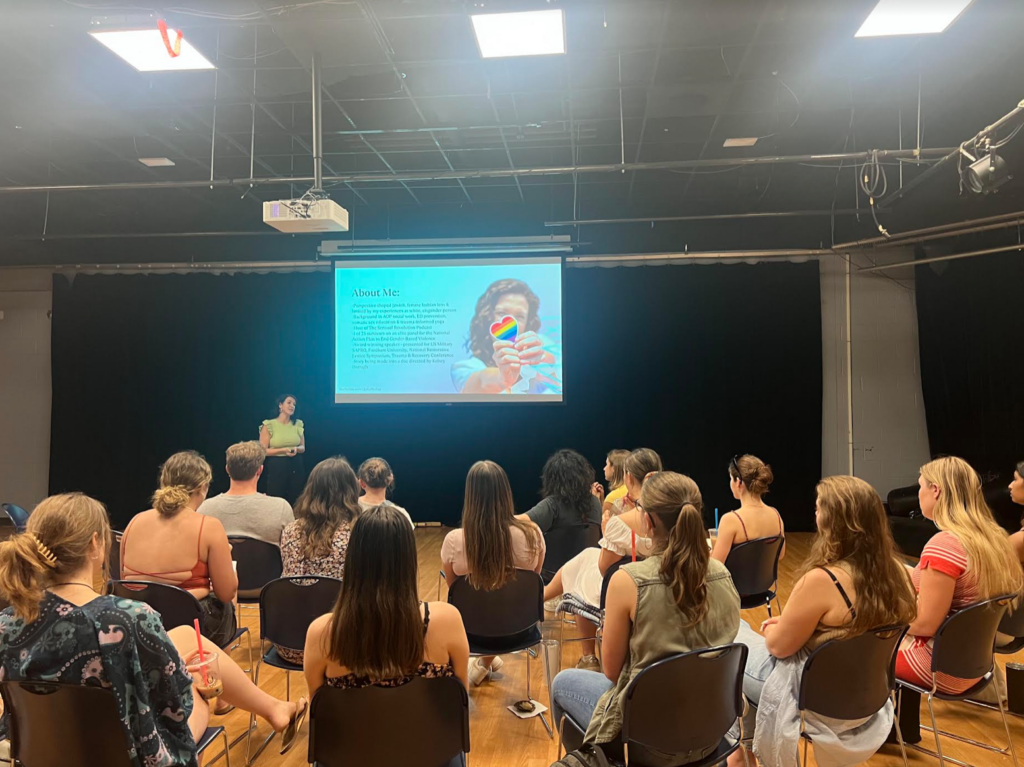 ---
2022
JUPS 30th Reunion (October 2022)
Justice & Peace Studies faculty, students, and alumni gathered for a panel discussing the program's founding, impact, and future. The panel is composed of founder and co-director Mark Lance, founder Sam Marullo, program assistant Ava Gaus, and alumni Gianna Maita and Brandon Anderson. The evening culminated with a celebratory dinner so that the JUPS community could share their joyful memories and hopes for the program's next 30 years.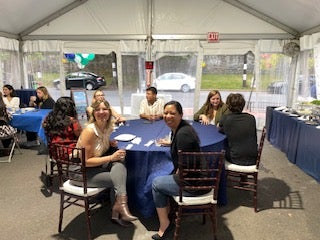 ---
2021
JUPS Senior Celebration (May 2021)
The Justice & Peace Studies faculty met over Zoom to celebrate the accomplishments of JUPS majors and minors in the class of 2021 at the Annual JUPS Community Senior Celebration on May 20. The JUPS Class of 2021 will pursue a diversity of careers and goals after graduation.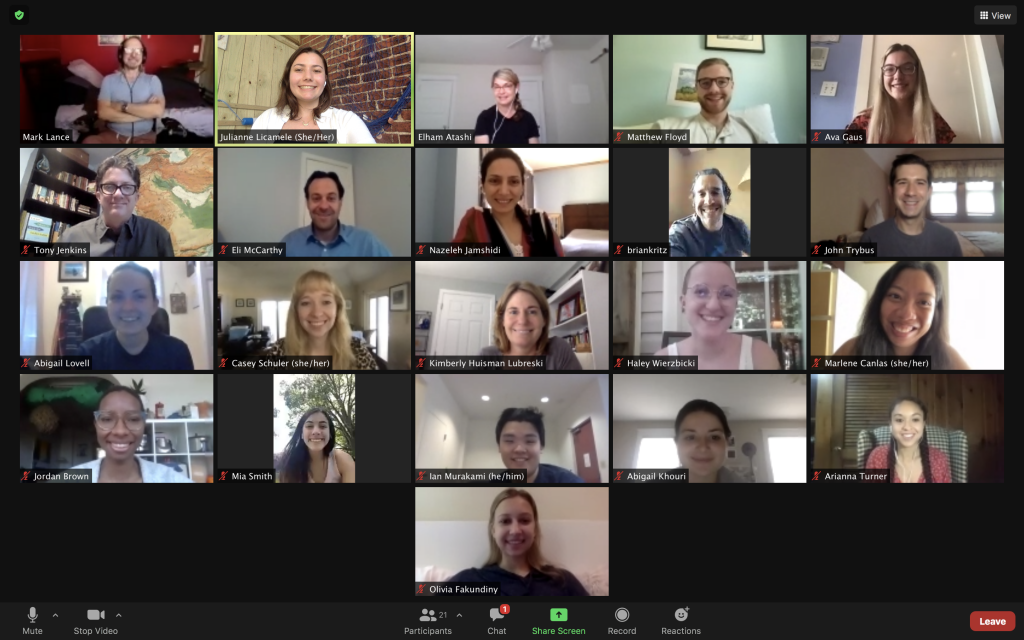 ---
JUPS Career Panel (May 2021)
Speakers Brian Kritz, Jennifer Wiggins, and Maggie Ferrato addressed our students in an insightful career panel on May 18. These speakers discussed the paths they took in entering the legal field, social work, and environmental policy work respectively. Our JUPS students were grateful to hear from mentors who could provide concrete advice on pursuing a career committed to justice post-graduation. Contact Program Assistant Ava Gaus for a recording of the panel.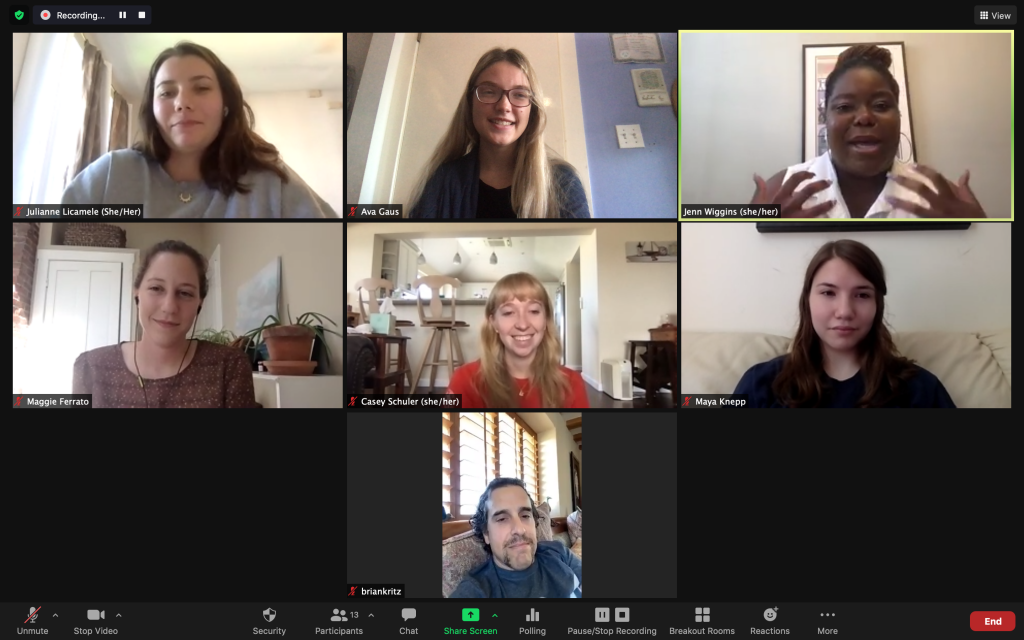 ---
2019
JUPS Senior Celebration (May 2019)
The Justice & Peace Studies faculty gathered together to celebrate the accomplishments of JUPS majors and minors in the class of 2019 at the Annual JUPS community Senior Celebration in May 1st. The JUPS class of 2019 will go on to enjoy a variety of endeavors as they begin their post-graduation paths.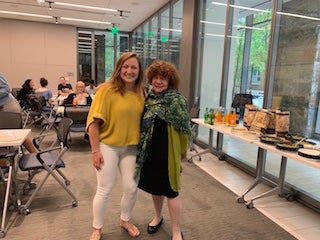 ---
2018
Rwanda Embassy Visit (October 2018)
Justice and Peace Studies students in Professor Elham Atashi seminar class "Justice after War", visited the Rwandan Embassy as part of learning about how societies deal with the calls for justice, truth, memory, and peace in the aftermath of genocide. This event included a discussion on peacebuilding, reconciliation the role of youth, and the strengthening of civil society.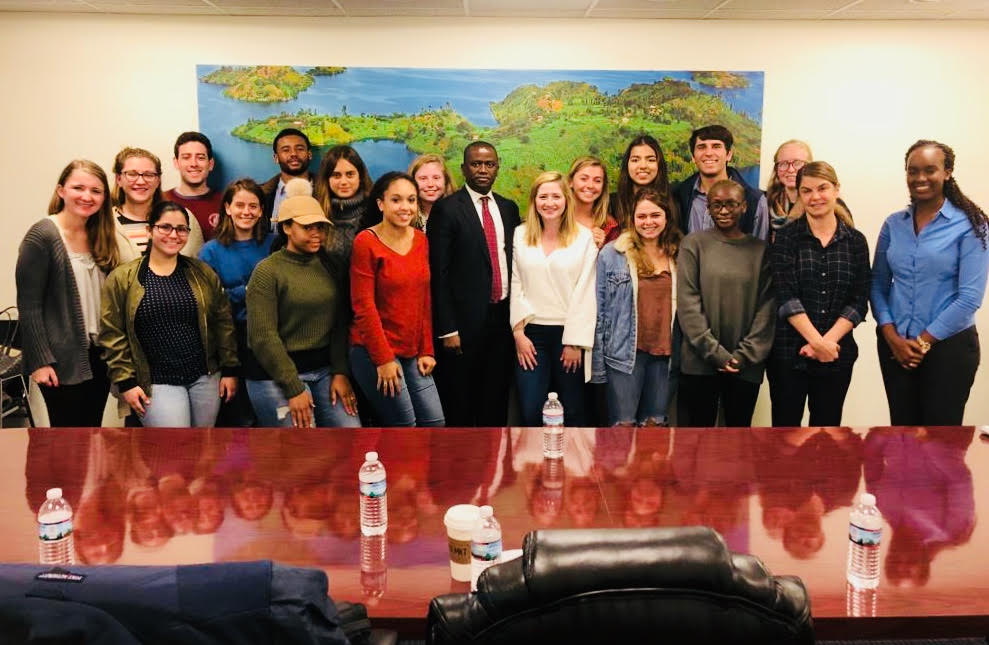 ---
Peace and Justice Studies Association Conference (September 2018)
From September 27th through the 29th, JUPS Professor Elham Atashi and JUPS seniors Kendall Silwonuk ('19), Reilly Garner ('19) and Meghan Grimes ('19) presented research conducted over a year long collaboration at the annual Conference of the Peace and Justice Studies Association held at Arcadia University in Glenside, Pennsylvania.  The panel title "Intersection of Violence and Nonviolence in Humanitarianism" was a great opportunity for each student to share their research with a packed and enthusiastic audience.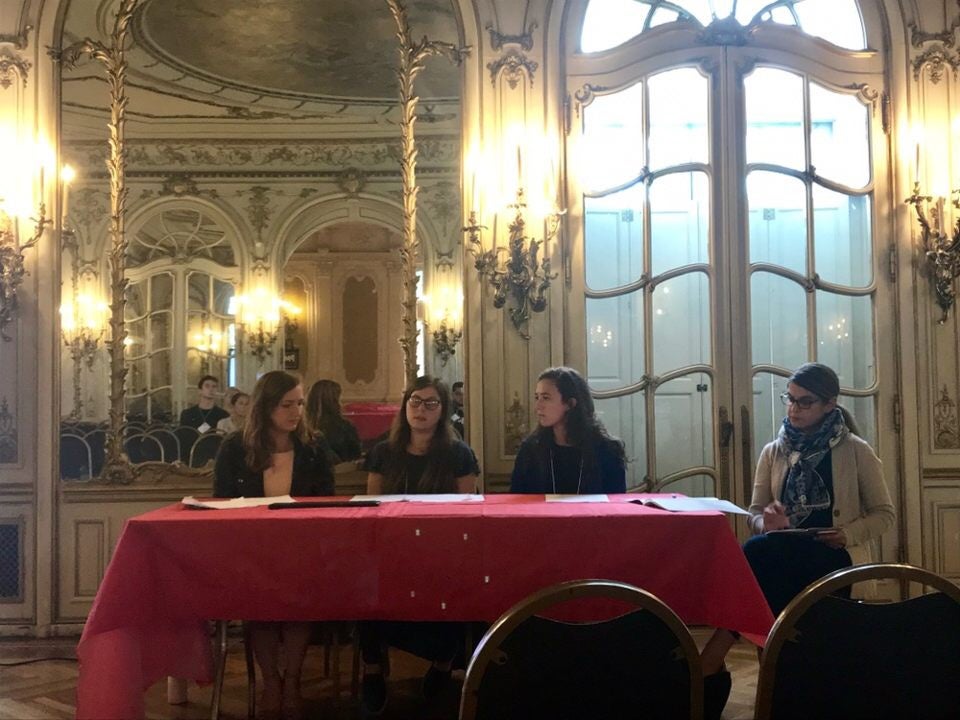 ---
JUPS Senior Celebration (May 2018)
The Justice & Peace Studies faculty was pleased to celebrate JUPS seniors in 2018 at the annual Senior Celebration in May. Students and their families were invited to participate and celebrate their accomplishments together before graduation ceremonies began. The JUPS Class of 2018 will go on to a number of fascinating and enriching careers and postgraduate endeavors.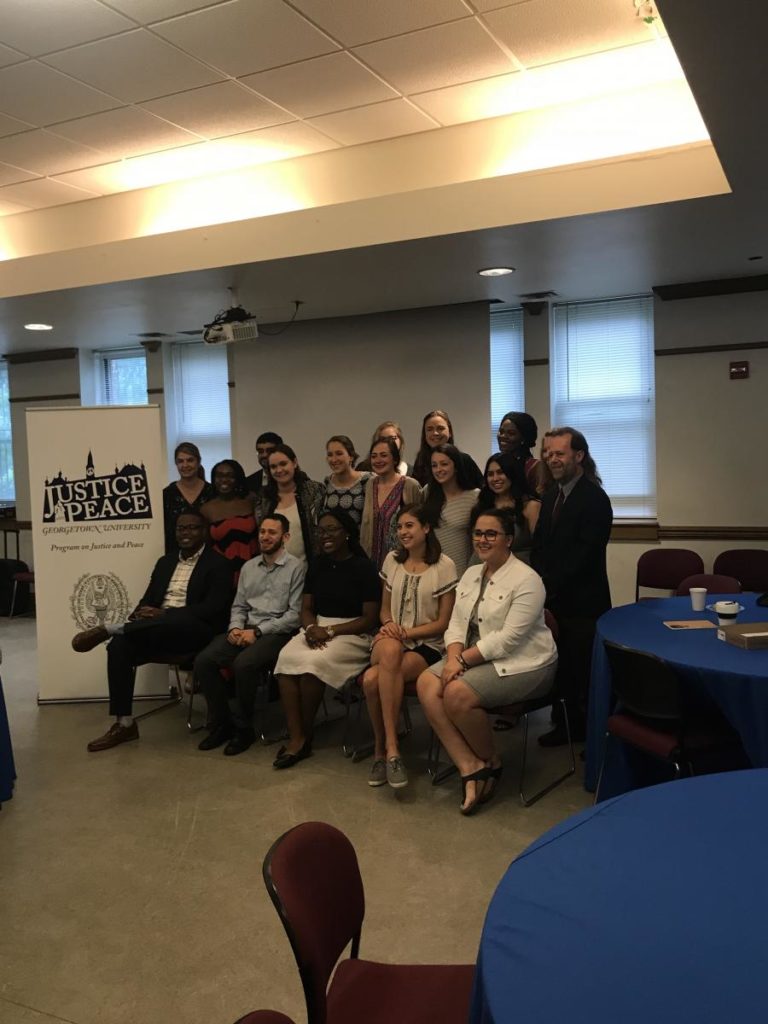 ---
2017
Peace and Justice Studies Association Conference (October 2017)
Professor Elham Atashi and JUPS major Elena Itamari ('18) traveled to Birmingham, Alabama together in October 2017 to attend the PJSA Studies Annual Conference and give a joint presentation. The presentation was based on research conducted on the role of collective memory as a tool of activism in societies with contested historical pasts.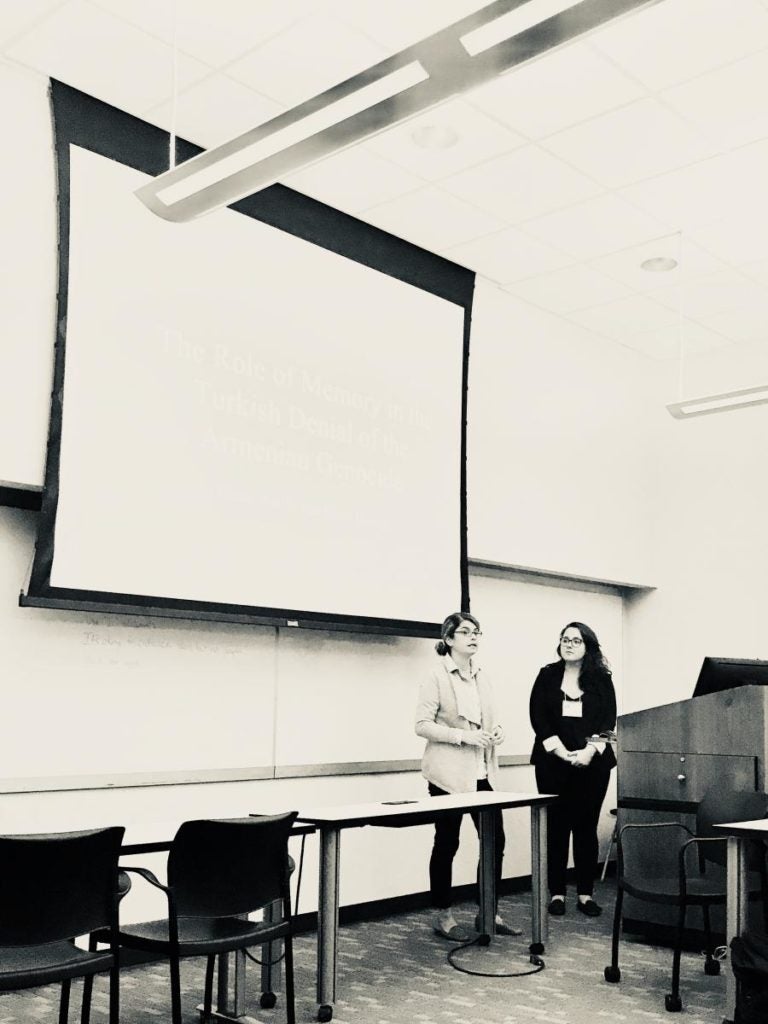 ---
JUPS senior celebration (May 2017)
The day before graduation, JUPS majors, minors, and certificates of the class of 2017 gathered in Arrupe Hall with their families for the program's annual senior celebration before the university-wide social justice sendoff. All thesis writers wore a green tassel on their graduation caps to represent their involvement in the JUPS program throughout their Georgetown careers.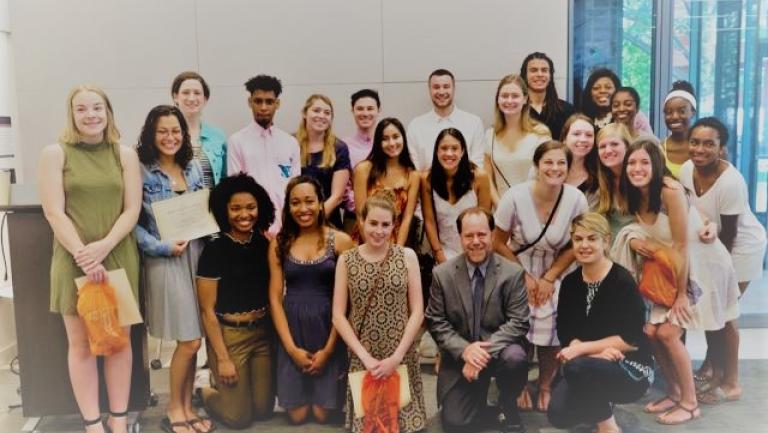 ---
Displacement, Civilian Protection, & Climate Change (April 25, 2017)
This presentation explored the nexus between climate change and conflict, which represents a grave threat to human security. The impact of sudden climate shocks and ongoing climate change conditions is exacerbating fragile situations in regions already characterized by high levels of violence and ongoing conflict. Tiffany Easthom, Executive Director of Nonviolent Peaceforce discussed the need for organizations and individuals with expertise in climate change, renewable energy and conflict prevention to work together to create innovative solutions. 
Tiffany Easthom is the executive director of Nonviolent Peaceforce (new window)since August 2016. She has an extensive history working in the field as an unarmed civilian protector serving as Program Director for Nonviolent Peaceforce 's Middle East program, Country Director in South Sudan and prior to that a protection officer for NP's program in Sri Lanka. Tiffany holds a BA in Justice Studies and a MA Degree in Human Security and Peacebuilding from Royal Roads University in Victoria, British Columbia, Canada. She also studied peacebuilding in the field in Uganda and served as Country Director for Peace Brigades International in Indonesia. 
This event was part of the SFS Centennial Event Series (new window) on the environment. As the School of Foreign Service approaches the one-hundredth anniversary of its founding in 2019, it is curating a year-long event series that convenes thinking and reflection on vital issues across the school, the university, and the community.
Other cosponsors include STIA (new window) and the Department of Theology (new window).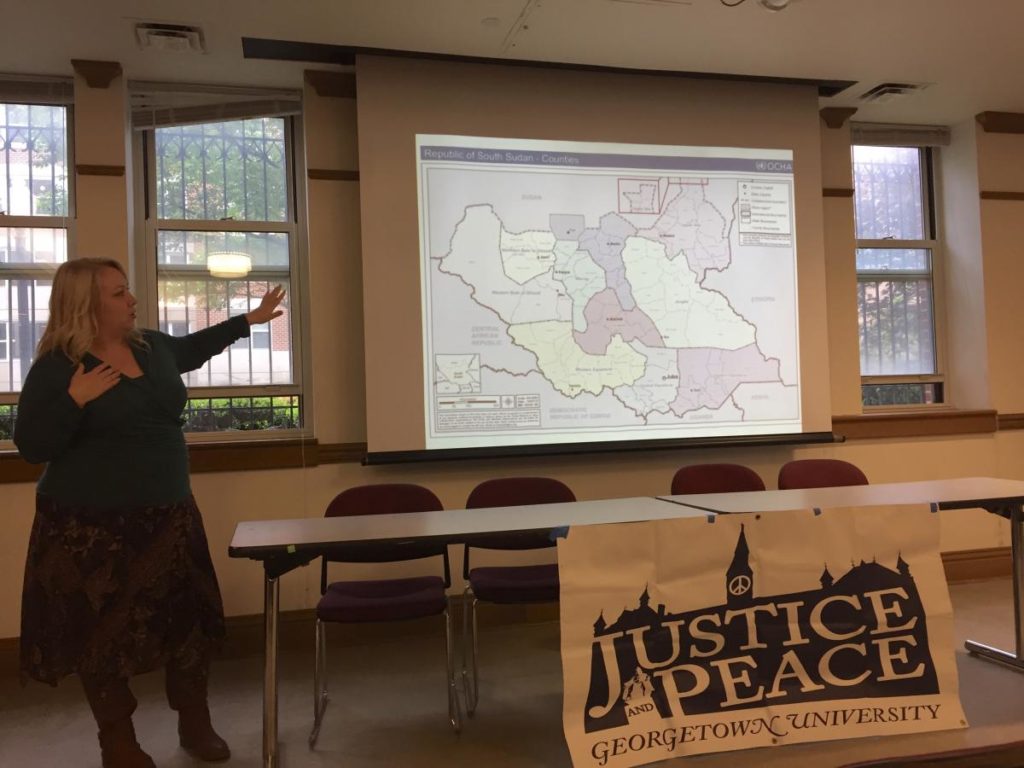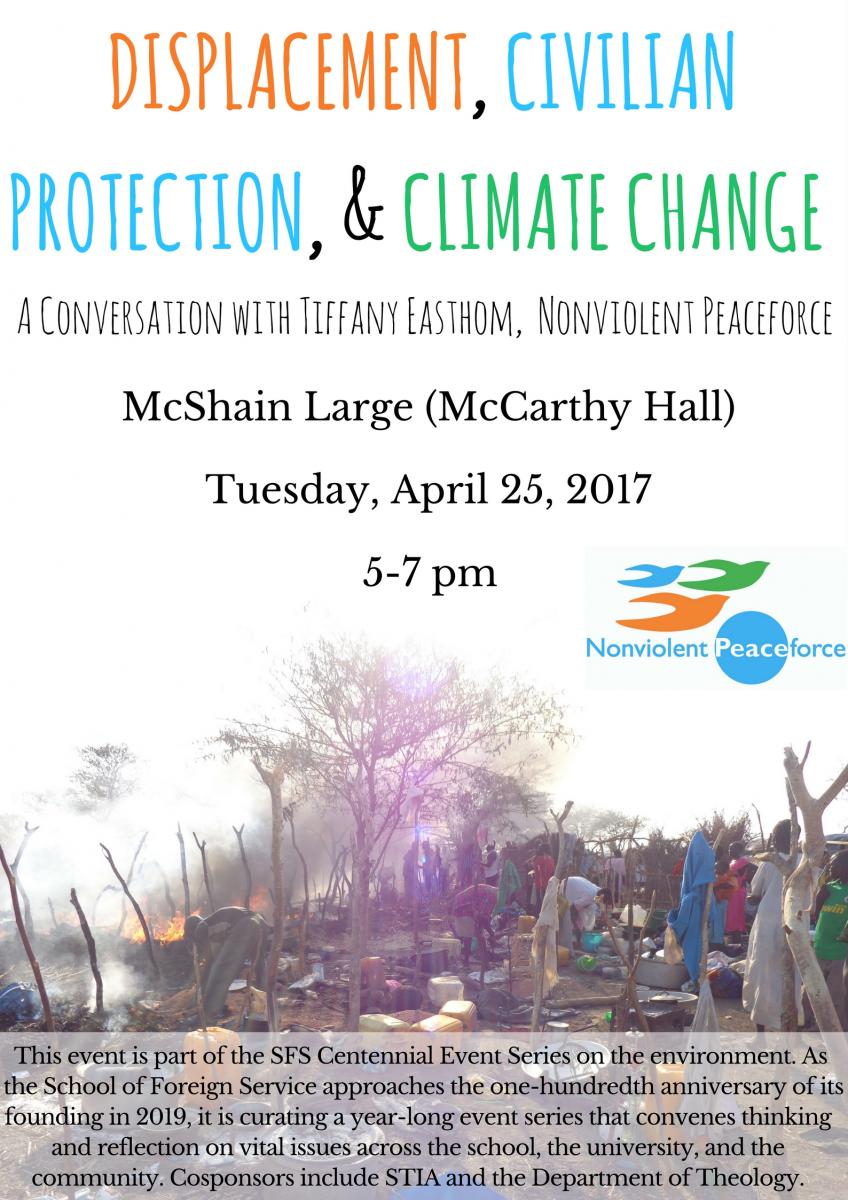 ---
Fly By Light Screening (April 6, 2017)
FLY BY LIGHT (new window) is an award-winning documentary about District teenagers breaking cycles of violence. The film follows four unforgettable young people on an eight-day journey into the mountains of West Virginia, leaving the streets to participate in an ambitious peace education program. The film has received acclaim at 13 international film festivals, including Bahamas International, Capital City Film Festival, and Urban Media Maker's Film Festival, and won the Audience Choice Award at BolderLife!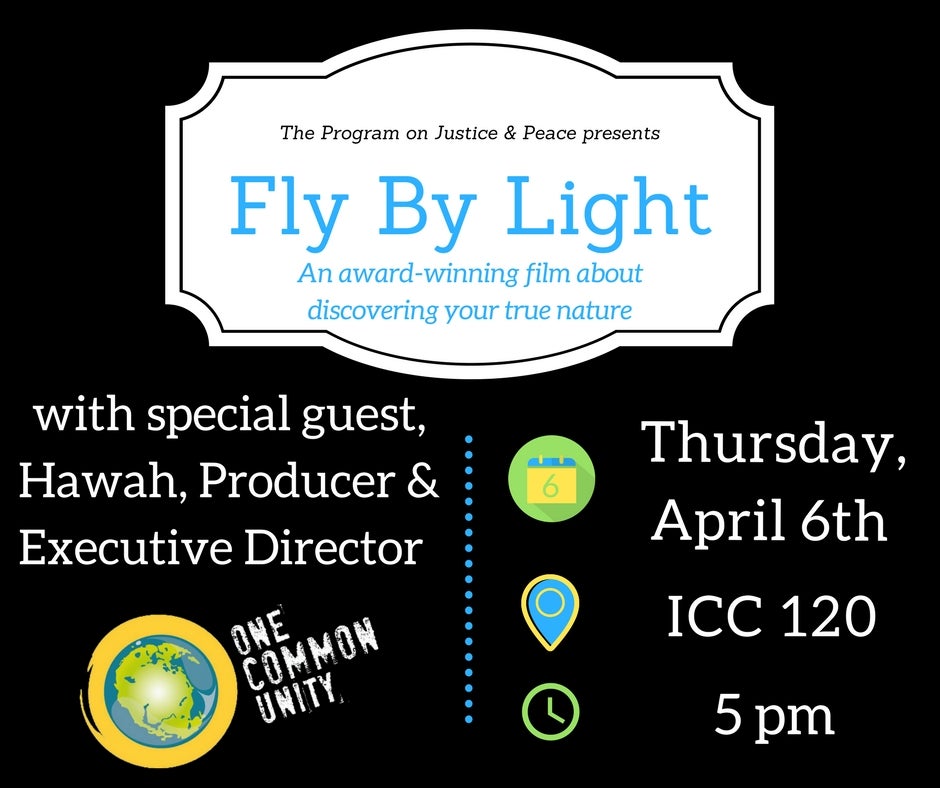 ---
The university as a site of social transformation (April 4, 2017)
Hosted by Georgetown University Program on Justice and Peace & Georgetown's Center for Social Justice (new window), Dr. André Keet (new window) spoke about The University as a Site of Social Transformation during Georgetown's 50th celebration of Martin Luther King, Jr.'s Beyond Vietnam speech. 
Dr. André Keet joined the higher education sector for the first time on a full-time professional basis in October 2008 when he became the Director of the Transdisciplinary Programme at the University of Fort Hare. Between 1996 and 2008, he worked in and with independent public institutions responsible for navigating the crucial transitional phase in South Africa's contemporary history whilst also teaching part-time and on a visiting basis at universities across the world. Most of his post-1994 work and teaching focus on processes aimed at deepening democracy, social justice, and the promotion and protection of human rights.
 
Joining the South African Human Rights Commission in 1996, André, later on, became its Deputy Chief Executive Officer. On a unanimous recommendation from parliament, the president appointed André as a part-time Commissioner to the Commission for Gender Equality in 2008. He is a frequently invited speaker at South African and other universities abroad, as well as at academic conferences.  André is presently based as the Director of the Institute for Reconciliation and Social Justice and advisor to the Rectorate. He was also appointed to serve as the Acting Vice-Rector (student affairs and external relations) until the end of January 2017. His research and postgraduate supervision focus on four areas:  critical studies in higher education transformation; social justice, social cohesion, and reconciliation;  human rights, democracy, and citizenship education; and public participation, critical citizenship, and democracy development.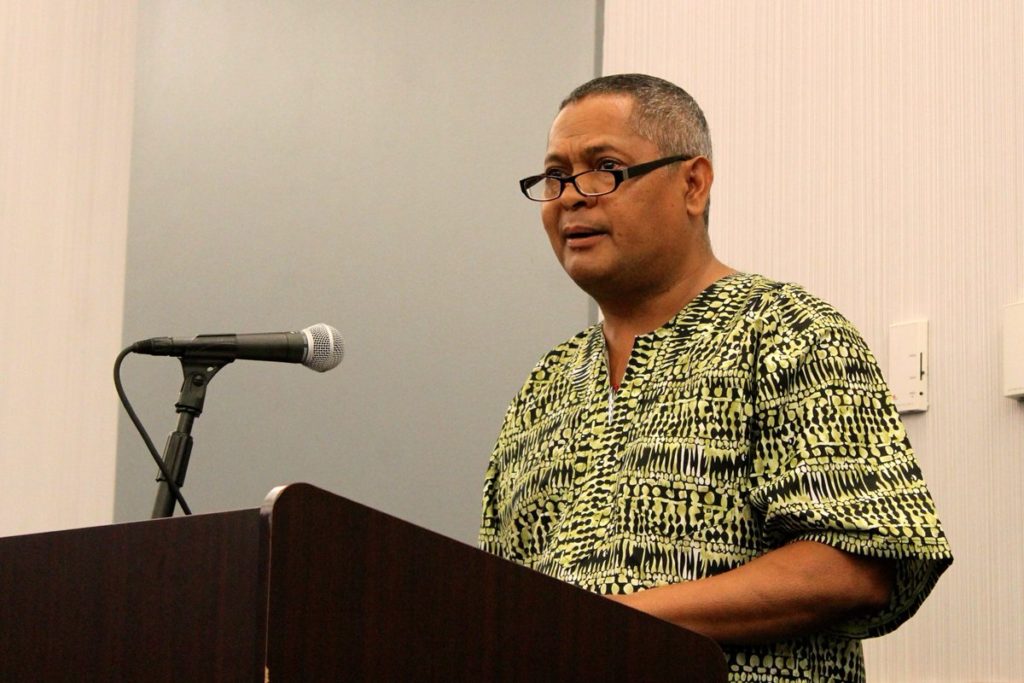 ---
Jornaleros Photo exhibit (March 27, 2017)
The JUPS community and the Trabajadores Unidos de Washington DC held an opening reception for the Jornaleros photo exhibit.
This exhibit is a compilation of photos taken by Jornaleros, undocumented day laborers, who are members of the Trabajadores Unidos de Washington DC. The arc of the exhibit is "A Day in the Life" of a Jornalero and shows the various stages and settings of their days. American University students helped the Jornaleros curate the exhibit which was shown at American University's Katzen Arts Center, after which the exhibit then traveled to Gallaudet University. At the reception, we will be joined by Trabajadores Unidos de Washington DC's Executive Director, Arturo Griffiths, and some of the exhibit's photographers. The exhibit will be featured in the ICC Galleria from March 27th – March 31st.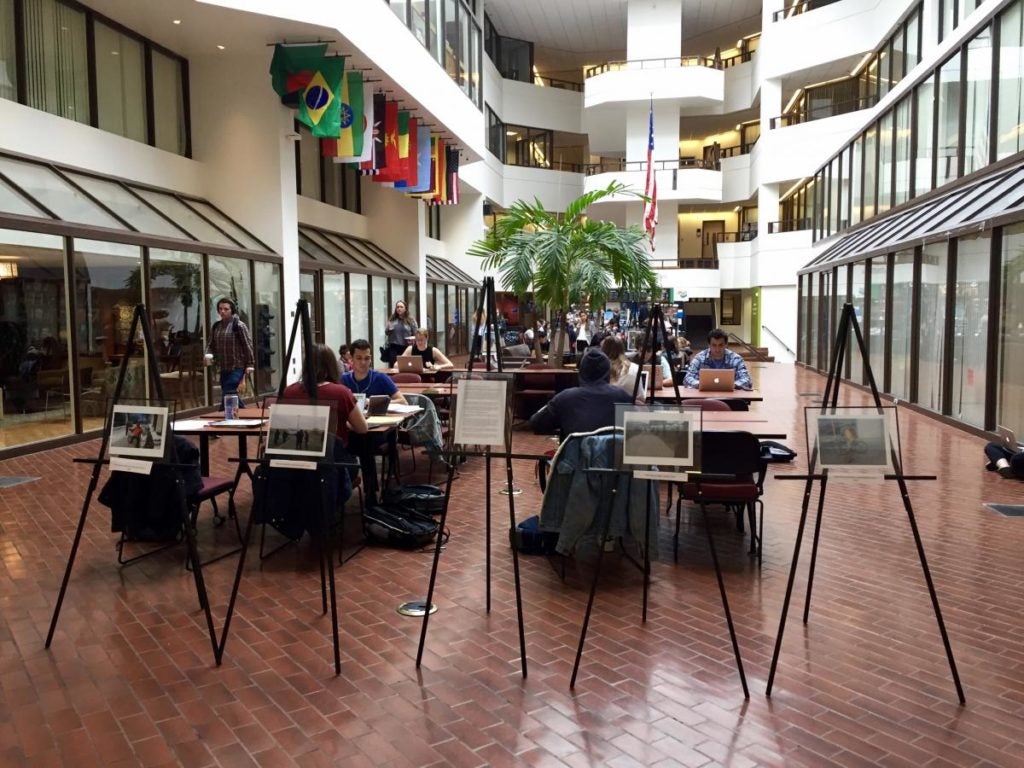 ---
Organizing against the savior mentality (March 21, 2017)
Hosted by Georgetown University Program on Justice and Peace & Film and Media Studies (new window) at Georgetown.
What is the role for people of privilege in social justice movements? A conversation about resistance in this political moment featuring author and journalist Jordan Flaherty.
Jordan Flaherty (new window) is an award-winning journalist, producer, and author. His print journalism has been featured in publications from the New York Times to Colorlines, as well as in seven anthologies. He has been a guest on shows from Anderson Cooper 360 to Democracy Now, and he has produced television documentaries and news reports for Al Jazeera America, Al Jazeera English, and The Laura Flanders Show. He was the first journalist to bring the case of the Jena Six to a national audience, he played himself on HBO's television series Treme, and he was a target of the New York City Police Department's spying programs. He is the author of Floodlines: Community and Resistance from Katrina to the Jena Six and the new book No More Heroes: Grassroots Responses to the Savior Mentality.
---
A Road to Home Screening & Panel (February 21, 2017)
JUPS was honored to host Carl Siciliano, the founder and Executive Director of NYC's Ali Forney Center for a screening of A Road to Home (new window) and a discussion. A Road to Home (new window) tracks the lives of six homeless LGBTQ young people over 18 months. Their lives typify the experience of the 500,000 homeless youth on American streets every night, 40% of them LGBTQ. The Ali Forney Center (new window), featured in the documentary, is the nation's largest and most comprehensive housing program for homeless LGBT youth.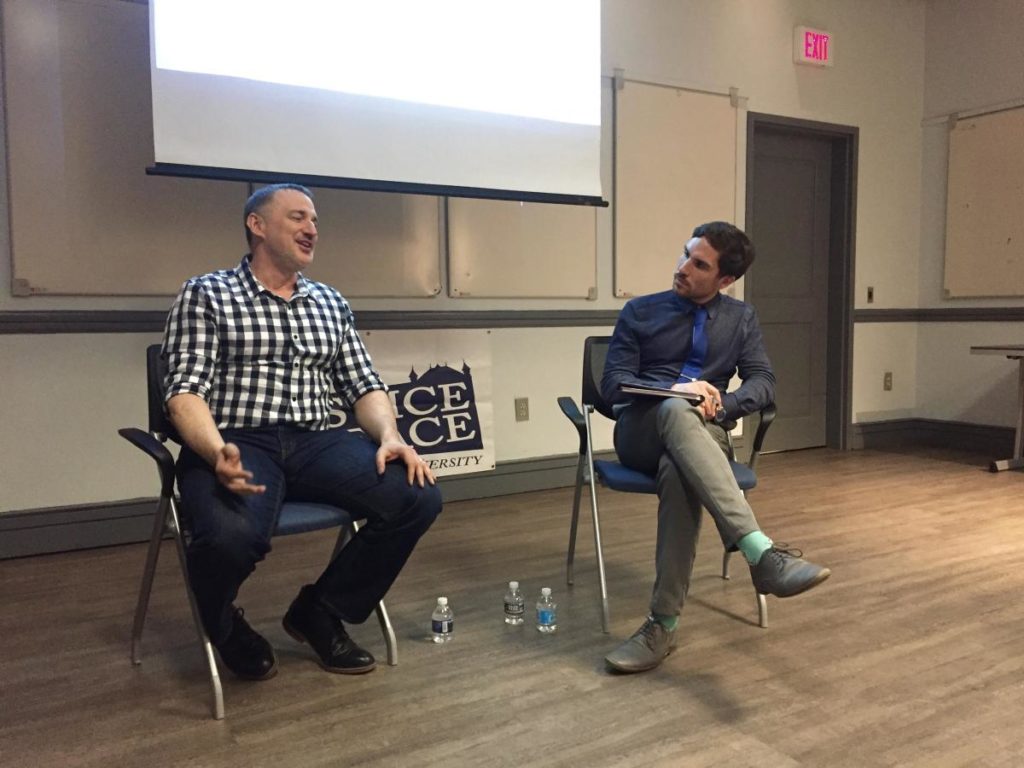 ---
How to End Mass Incarceration (February 8, 2017)
How to End Mass Incarceration was a panel of criminal justice reform experts, facilitated by Professor Henry Schwarz (new window), who discussed the best tactics to end the mass incarceration that plagues the US.
Panelists included: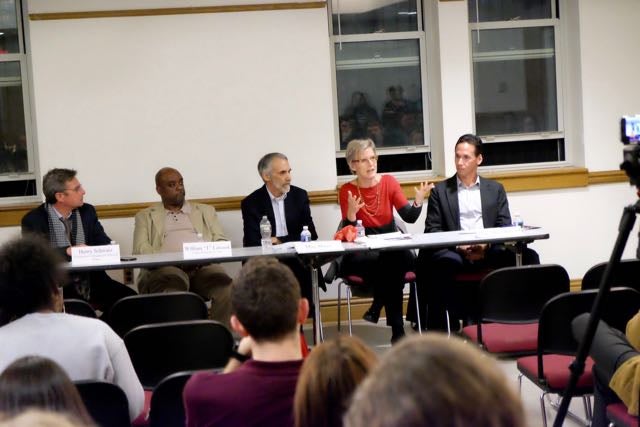 ---
Careers in peace: considering pathways for undergraduates (January 31, 2017)
David J. Smith (new window), author of Peace Jobs: A Student's Guide to Starting a Career Working for Peace (new window) (Information Age Publishing 2016), shared with students strategies for using their peace and justice education and experiences as a springboard for a career in the field upon graduation. This session explored pathways of professionals working to promote peace-building, social justice, and conflict resolution.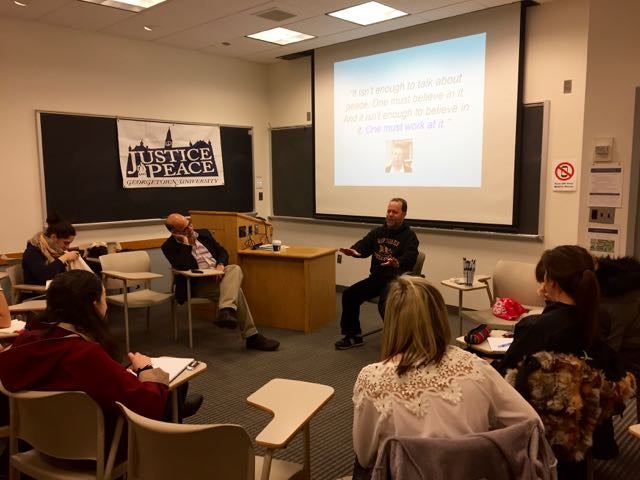 ---