Integrated Writing Plan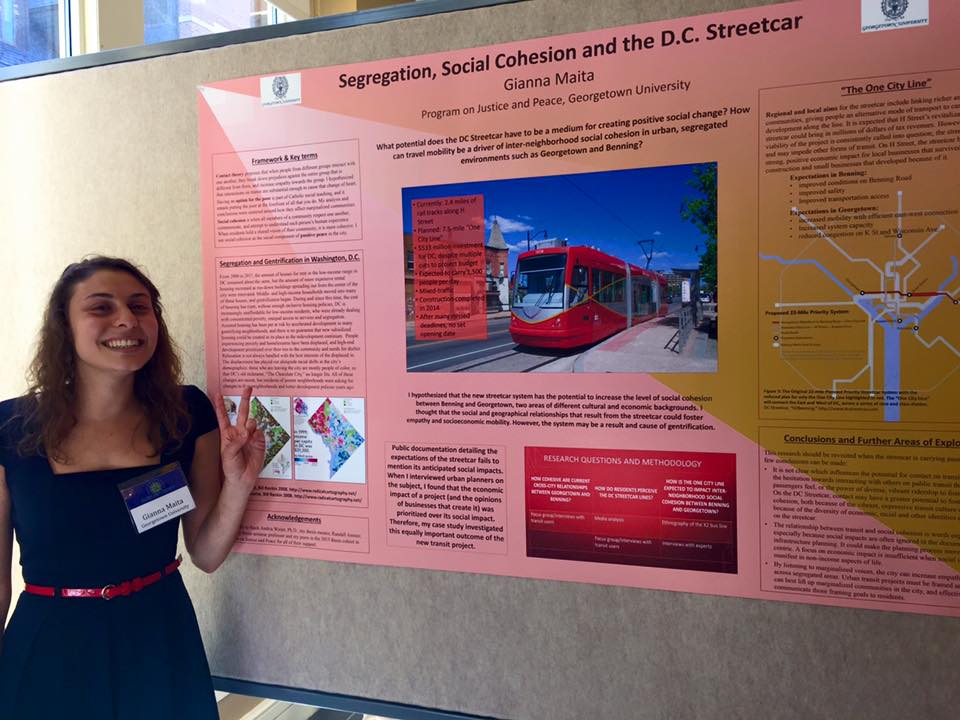 JUPS Alum '15 Gianna Maita presents her fascinating senior thesis on Segregation, Social Cohesion and the D.C. Streetcar at the Human Development and Capabilities Association
The field of justice and peace studies promotes positive change through scholarship, pedagogy, service, and action with nonviolence and social justice at its core. Practitioners should possess a range of writing skills to serve these needs. Every JUPS course has substantial writing requirements included in its framework, in particular through the presence of reflective essays, critical reaction papers, advocacy pieces, policy statements, and/or thesis-driven articles. Good writing in the field is both technically sound and substantively persuasive, and often includes a balance of personal voice and scholarly analysis. 
Three JUPS classes cultivate the technical and substantive proficiency essential to success in the field. The net effect of these points of contact—bolstered in-between with foundational courses and electives with robust writing requirements—is to ensure that every JUPS students writes well.
Our Intro to Justice and Peace Studies curriculum, JUPS123, will expose students to the interdisciplinary nature of the field. Students will experience reflective, critical, creative, and analytical writing styles. 
Majors will gain experience with collaborative research, writing protocols, and public presentation in our required research methodologies course, JUPS 299.
In the Senior Seminar, JUPS 303, students will take 3 one credit skills building classes that bring theory into practice and applied scholarship into focus through the experience of producing policy memos, grant writing, podcasts, project/writing, including multiple feedback loops from the course instructor, and their peers. 
Proficient and persuasive writing is foundational to the scholarly pursuit of justice and peace and the task of "speaking truth to power". By presenting a multiplicity of writing opportunities—whether about local initiatives, global networks, working with the homeless, or engaging in government advocacy—we strive to help students become outstanding communicators.Our professors will promote intensive coursework, constructive feedback, collaborative processes, and a personalized educational approach designed to promote student success in the program and beyond.