Alumni Spotlight: Elena Itameri
COL '18, JUPS major with Human Rights and Sustainability concentration, Women's and Gender Studies minor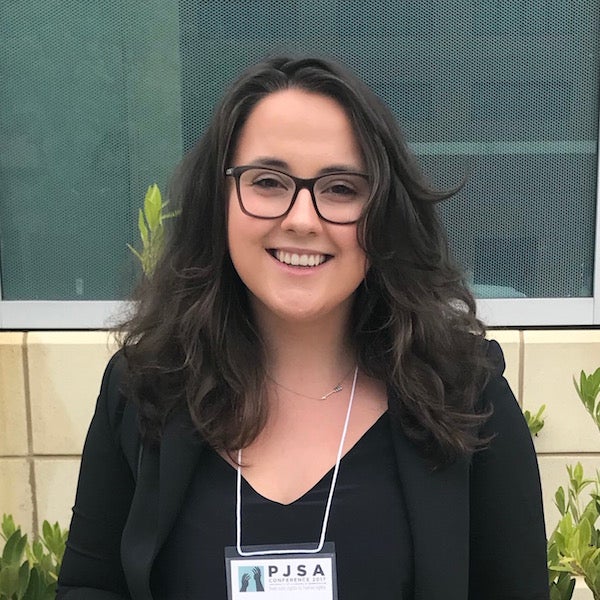 What has been your path since graduating from Georgetown? In other words, what are you doing now and how did you get there? 
I'm currently a law student at Lewis & Clark in Portland, OR. I chose L&C because of their nationally recognized environmental program, as I hope to work on climate change related issues once I graduate. I'm doing the K-J.D. route, that is to say, the only thing between graduation and my first day of law school was a cross country road trip.
What is your most memorable experience from the Justice and Peace Studies Program?
My most memorable experience from the Justice and Peace Studies Program has to be presenting at the 2017 Peace and Justice Studies Association Conference at the University of Alabama at Birmingham. Professor Atashi reached out to me and asked if I'd want to present my research on the role of memory in the Turkish denial of the Armenian Genocide—of course, I said yes! I was able to discuss my research in front of people from around the country, and I'm still in touch with a few folks who were especially interested in my project. This was a vastly different experience from presenting in class. On one hand, it's intimidating because this is the first impression you're making on potential future colleagues. On the other, it's so much more fulfilling because everyone who is listening to you truly wants to be there and has specifically chosen to come to your talk. 
How has your experience with JUPS benefited you or shaped your life today? 
JUPS illuminated a path for me that I realistically should have been on the whole time. I always knew I wanted to be a lawyer, but it was the classes I took through the JUPS program as well as a well-timed internship that made me realize I could use my knowledge of the law to represent people, animals, and the environment. Through conversations with some of my favorite professors, I realized that protecting the environment was what I'd always been most passionate about—my 12th birthday was endangered species themed, and I never heard back from the governor about my plea to ban shark fishing the year before. 
A school like Georgetown can make you feel as though you're supposed to take a particular path (hey there, Deloitte), but if you don't feel inspired by that, there are other options! I honestly never thought I'd move to the Pacific Northwest, but I'm now surrounded by folks who each have a plan to change the world. I only got here because people much wiser than I supported me and validated my plans, and I have the JUPS program to thank for that.
What would you say to current undergrads considering a JUPS major, minor, or certificate? 
What are you waiting for? You won't find a more caring, dedicated, or inspirational faculty in any other department in the school. Seriously—ask almost any JUPS professor what they did over the summer, and you'll be floored. 
Please feel free to add anything else that you feel may be relevant about JUPS or about Georgetown in general.
The JUPS program at Georgetown is an incredible opportunity because it meshes so well with the Jesuit values that many of us try to embody. When you take JUPS classes, you're able to work on projects that could truly set the world on fire. During my sophomore year, I worked with my colleagues on a final project that outlined an initiative to provide sex workers in Washington, DC, with access to basic healthcare and labor rights. The product of our research and creativity was a plan that could actually be carried out, given the necessary funding—in fact, I still have a document with the proposed logo, description, timeline, and budget saved on my computer. JUPS offers you the tools to be the change you want to see in the world, so why not take them up on their offer?