Alumni Spotlight: Margaux Nielsen
COL '14 JUPS major and Theology minor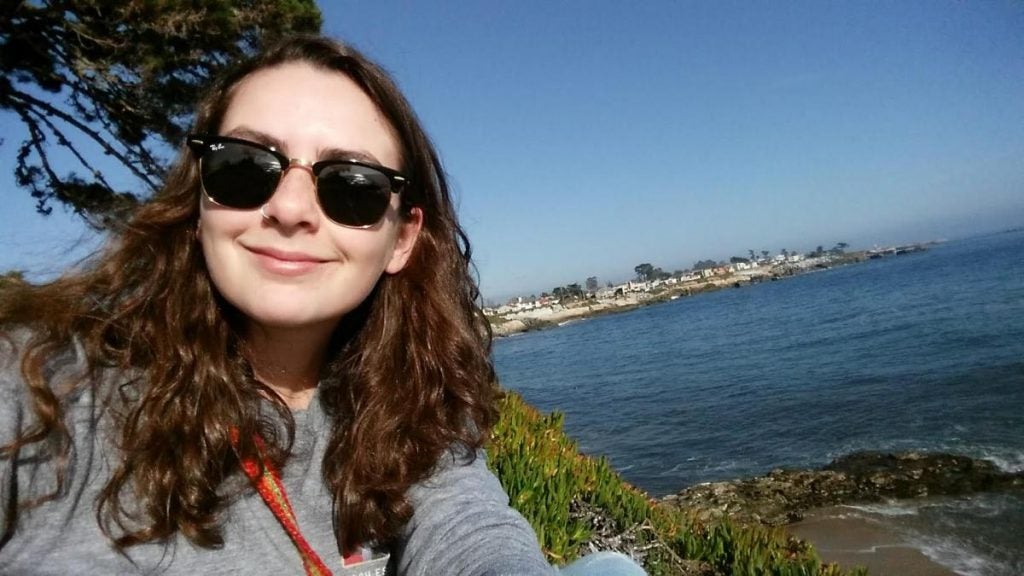 As a JUPS Student, what was your concentration and what was your thesis about?
My concentration was Social Justice and Education, which was a good way to bring together all my major interests and things I pursued as a Justice and Peace Studies major inside and outside of the classroom. And for my thesis I made a creative writing curriculum for the prison setting, specifically for male prisoners. It was a combination of outside research to inform me of best practices of how I should make the curriculum and more than half of it was the curriculum itself, with worksheets, lesson plans and readings.
…When this semester started, someone from Prison Outreach, which I was involved in when I was at Georgetown, reached out to me because they had recently started a creative writing program for the men in the Arlington Jail and the women in the Alexandria Jail…They knew that I had a creative writing curriculum that was pretty much ready to go, specifically for men, but adaptable. So they reached out to me and I was like "Yeah, of course you can use it, let me know if you need any help." I just saw someone the other day and they said that they are pretty much using the whole thing.
What are you doing now?
I actually just started working; last week was my first week and it was pretty exciting. I am working as a GED/ABE (Adult Basic Education) Teacher at a nonprofit called Seeds of Tomorrow… They are a DYRS service provider. DYRS is DC Youth and Rehabilitative Services, so that's the government entity that deals with juveniles; but if you are in DYRS you are probably a little older, because people in it have been "stepped back" a few times. So, [for example] ASK [After School Kids Program] works with students who are on probation or in the court system, and if they continue to fail drug tests or continue to miss their programs they could be put in DYRS. A lot of them have to live in group homes; they are kind of like wards of DC. And DYRS group service providers are all over DC, everywhere you look…I also worked with ASK when I was here, and ASK started working with DYRS my last semester. That was part of the reason why it was a good fit for me; I knew the lingo, I knew all the paperwork you had to do and I had all the clearances necessary.
The first week was a little bit of a whirlwind, getting to learn everything and meet everyone. Everyone is really sweet at Seeds, there are probably about eight employees. Actually, the founder of Seeds of Tomorrow's mom is the current main GED Teacher…She was a Chicago teacher for a long time and she has been helping me out. I got to meet pretty much all of the GED students, and next week I'm going to head up the GED class that they are starting in one of the group homes, called Life Deeds. Basically, a lot of the students enrolled in the GED program happen to live there, so Life Deeds just asked Seeds if we could do it in-house because it would be easier and everyone would definitely attend. So, that's kind of why they hired me. Next week it might be a whole different thing. I've started doing lesson plans for them…Actually, I've already been able to use my thesis, once again, [for it]. I just used one exercise, but, you know, you have to do a lot of writing on the GED so I am going to use a storywriting brainstorming sheet for that on Monday.
How do you think the "justice and peace lens" that you have as a JUPS major will affect your work at Seeds of Tomorrow?
For one, it makes me feel more confident in the position that I'm in, because I have the background knowledge and the language to talk about the issues that these kids are facing. And I think, overall, Justice and Peace opens you up to viewing things differently and understanding things differently, and I think that helps me, not only to relate to the kids, but to help them navigate a lot of challenges. Even though I am a GED Teacher, I'm going to spend a lot of time helping them get IDs or helping them open a checking account. I understand because of JUPS why no one has an ID and why it's so hard for these kids to make the transition into adulthood.
How did you navigate the job market before or after you graduated in December?
It was definitely a doozy, because it is stressful. I probably started looking a little bit later than I should have, because I think I started applying around the end of October or November. The CSJ, and specifically ASK and Gina Bulett, was very helpful in this. One of the first things I did was sit down with [Gina] and I told her that I wanted to do something similar to ASK, at least to start, and maybe one day get an MSW (Master's in Social Work). But I want to get my feet a little more wet before I do anything like that. So she told me of a lot of places to look at; she helped me with my resume and the correct lingo, and to include concrete numbers and stuff like that. She helped me start off.
I did a lot of just going to websites…I found that it was really difficult to get a job just by applying, not being a face to them and just submitting an application online. No one ever wants you to make a phone call so you can't really even do that to introduce yourself. There were a few jobs where I got an interview or a phone interview, and even when they liked me and they thought I said interesting things and probably would be good, there were 25 other people applying for one position, so it was kind of daunting.
On the other hand, it's kind of easy to get a job if you talk to people, ask people if they know anyone who is hiring, especially CSJ or JUPS people. I ultimately found out about Seeds through Gina, from ASK, because she knew the founder. A good referral seems to go way further than a good application.
I would also suggest that all JUPS students look at Idealist.com. You can get a weekly email with new jobs, and narrow it down to whatever path you are looking at. My best cold-calling options were definitely from there.
What do you miss most about being a Georgetown student? And what is your favorite thing about not being a student anymore?
I must say it is kind of weird not to see all the people I used to see every day, especially being in a major like JUPS where it is small, and you probably know at least everyone who is in your grade who is doing it. And also being involved in the CSJ, you see everyone all the time…
On the other hand, I must say that even though I have only worked one week and it's definitely tiring, I really like the change of pace. I'm really excited to have a different schedule, and to not have homework or have to write essays…I'm just getting to the point where I want to write a little bit—anything from creative things (I have a whole idea in my head about a children's book…) to a "jupsy" article—I'm getting to the point where writing is fun again. I've had enough of a break, and I want that [again]. I think it's cool that I can read a lot and write a lot and it doesn't feel like homework.