Alumni Spotlight: Khadija Khan
COL '17 JUPS major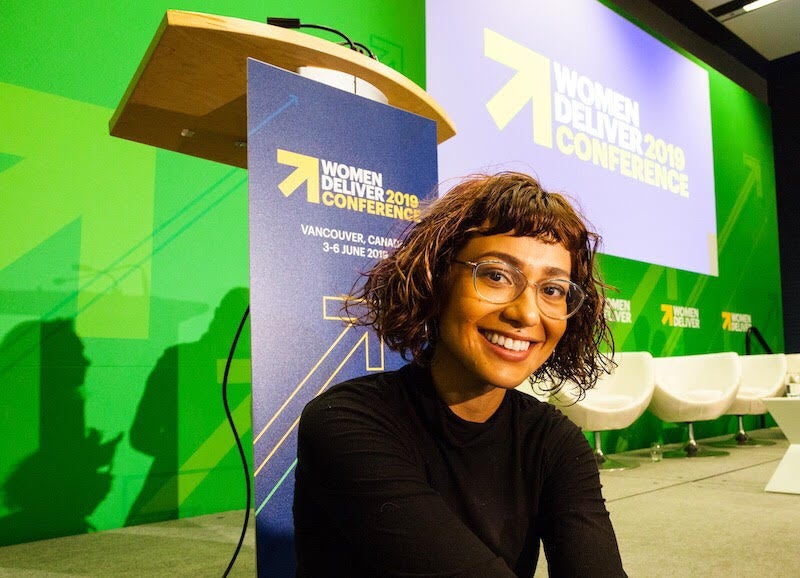 What has been your path since graduating from Georgetown? In other words, what are you doing now and how did you get there?
Like basically everyone else after graduation, I was just kinda swirling around out there in the winds of the real world. I did a few things with Georgetown summer programs, had a few side-gigs, and spent lots of time looking for jobs. It was actually extremely cosmic luck that I found the job I have. Advocates for Youth is a sexual health and reproductive justice non-profit that does really great work with youth of color, queer & trans youth, young survivors, and more. After the 2016 election, AFY finally got funding to expand on their queer Muslim youth work. They just happened to combine their new Muslim youth program with their existing international youth programs and were looking for someone to run both. It just happens to be that I am a queer Muslim with extensive experience in reproductive justice work and in international youth activism. Some supportive JUPS folks recommended me to a Director at AFY who was a queer Georgetown alum – and I got an interview and eventually, the job! Connections mean a lot, and so does spreading the word that you're looking for jobs to professionals who regularly get emails about job openings. Also, I was lucky to get a job that quickly after school – it took several of my friends many months or years to find a full-time job, and that's totally normal! Don't freak out – find ways to make ends meet and keep trying.
What is your most memorable experience from the Justice and Peace Studies Program?
Definitely study abroad. I went to Cape Town, South Africa in July 2015 right after a huge student movement had broken out across the country, Rhodes Must Fall. It was about decolonization of higher education and post-apartheid resolution and justice. I was supposed to only stay for 1 semester, but when an even bigger iteration of the protests broke out in October, Fees Must Fall, about affordable access to education for all, I knew I had to stay. JUPS was so understanding and supportive of me spending a whole year abroad. They acknowledged that I had an incredibly unique opportunity to learn about these issues in a real-life on-the-ground context and encouraged me to go for it. Shout out to Andria Wisler for 10 thousand reasons, one of which for being my research advisor and regularly Skyping with me to help me wrap my head around my projects.
How has your experience with JUPS benefitted you or shaped your life today?
It gave me the intellectual curiosity, academic foundation, and real-life experience that got me where I am today. I never could have gotten the job I have if I did not have the combination of both international travel and grass-roots organizing experience. It also gives you the worldview necessary to make positive change in a wide range of fields – and employers see that as creativity and innovation.
What would you say to current undergrads considering a JUPS major, minor, or certificate?
Life after college is really different. It's also great! The topics you study in school will shape you, but they won't necessarily define your future – your experiences will. Especially for GSPers like myself, take advantage of all the opportunities that Georgetown gives you to see the world, try new things, and make connections with professors and faculty. JUPS is a great program because it grounds you in the structural and cultural lens to addressing issues. These skills can translate in so many different ways.